Research Contributors:

Locomotive Research-
Also ...we would like to thank everyone who has supported this website.
From the temporary page, (posted on December 6, 2003), to the website as it appears in it's current version, we have received and archived hundreds of your supportive e-mails.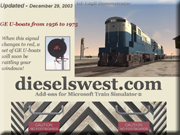 The Train Simulator franchise has connected us with some of the finest people across the globe, and we are fortunate to know you. Thank you for your praise, criticism, and for taking the time to share your knowledge, experience, and personal stories, all of which fuels our effort to make each model better than the last.
Special thanks to all for their time, interest, and effort

Lee, Thos R. "Rock Island Westward", Volumes I & II; T. LeePublications 1992 & 1998
General Electric, Erie, Pennsylvania; GE's New Diesel-Electric Locomotive The U25B, 1959
General Electric, Diesel-Electric Locomotive, 1962,1966,1972,1978
General Electric, Locomotive Service manual; Series-7, Series-8, 1984, 1985
McDonnel, Greg, "U-Boats", Stoddart Publishing Co. Limited, 1994
Pinkepank, Jerry A.,"The Second Diesel Spotter's Guide", Kalmbach Publishing Co., 1973
Solomon, Brian, "GE Locomotives - 110 Years of General Electric Motive Power", MBI Publishing Co. 2003
U.S. Department of Transprotation - FRA, Code of Federal Regulations, 2002
Reh, Vincent, "Railroad Radio", Byron Hill Publishing Co.,1996
Solomon, Brian, "Railroad Signaling", MBI Publishing Co. 2003
Solomon, Brian, "Union Pacific Railroad" MBI Publishing Co. 2000